Why Dialysis Care is Moving In-Home
April 02, 2019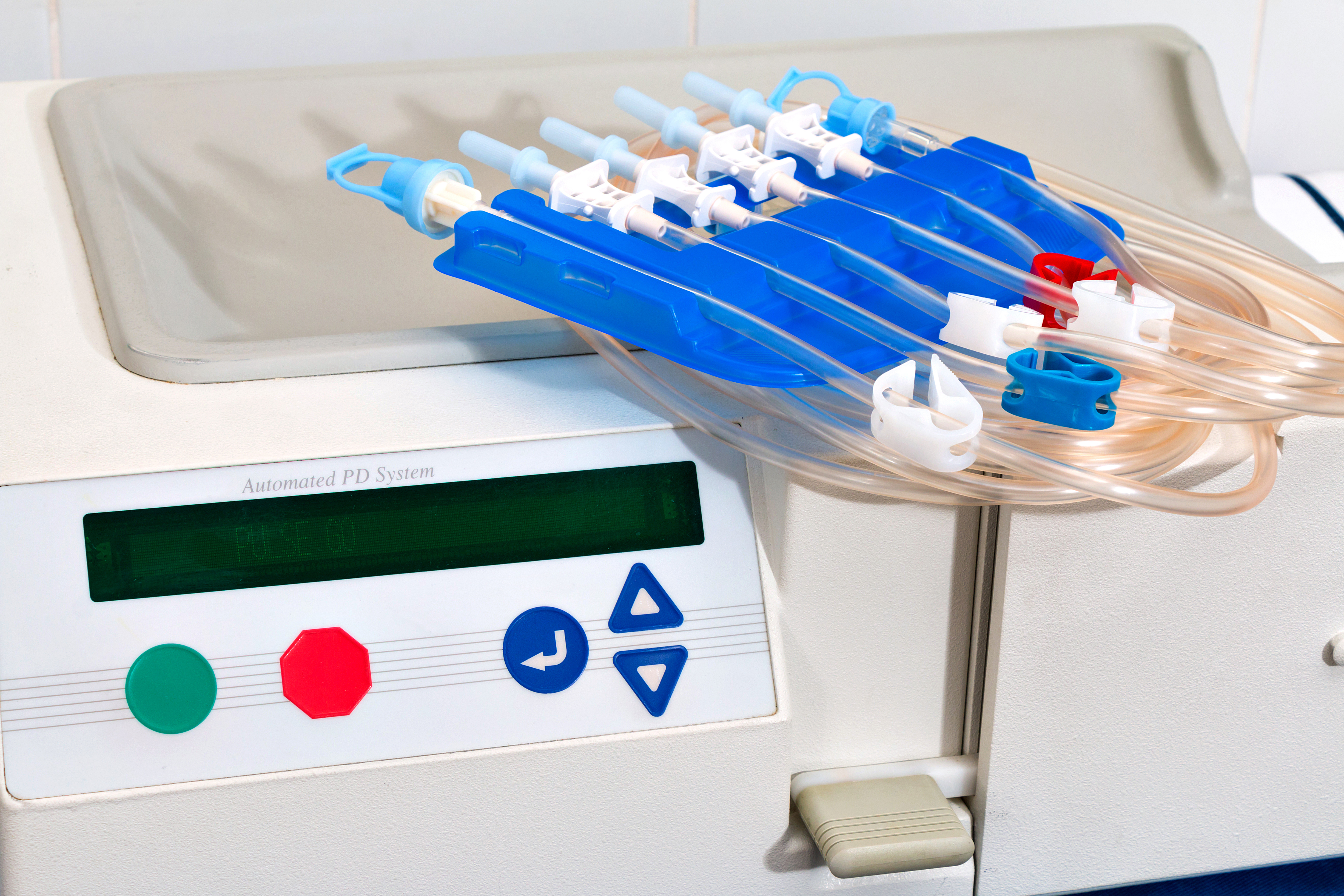 More than 15% of adults in the United States suffer from Chronic Kidney Disease (CKD), a progressive disease in which the kidneys are damaged over time, often due to untreated diabetes and/or hypertension. CKD is typically divided into 5 stages that correspond to the degree of reduction in kidney function. Stage 5 of CKD, known as End Stage Renal Disease (ESRD), is typically reached when patients' kidneys are operating at less than 10% of the level of healthy kidneys, and therefore cannot filter blood the way they should.
At that stage, the only option left for patients is Renal Replacement Therapy (RRT), an umbrella term for treatments that seek to replace the blood filtering function normally performed by the kidneys. The two most common forms of RRT are a) kidney transplantation, and b) dialysis, which involves pumping a patient's blood over a membrane several times a week in order to remove toxins and metabolic wastes. While kidney transplantation is the preferred method of replacing kidney function, only 20,000 kidney transplants are performed in the United States every year. Meanwhile, more than 500,000 ESRD patients in the United States are left with dialysis as their best option.  
There are two common dialysis modalities: Peritoneal Dialysis (PD), in which a form of dialysis in which the lining of the abdominal lining (or peritoneum) is the membrane used as the necessary filter, and Hemodialysis (HD), in which an artificial membrane is used.
Hemodialysis is further split into two sub-modalities: In-Center Hemodialysis (ICHD), in which patients are dialyzed at a specialized clinic, and Home Hemodialysis (HHD), in which patients and/or their caregivers are trained to perform hemodialysis at home. Of these, ICHD has historically been by far the most common option due to a number of operational and technical advantages for dialysis care providers.
However, ICHD care also has significant disadvantages for patients. It requires adherence to a strict treatment schedule–patients who are treated in dialysis centers are required to have three or four multi-hour treatments a week. The treatment times are not flexible, and patients who do not live close to a dialysis center or are not highly mobile may require special arrangements for transportation to dialysis centers. If treatments are missed, there can be severe impacts on a patient's health. Despite these disadvantages, 90% of patients currently receive in-center care. However, with recent technological improvements, as well as changes in reimbursement policies to incentivize home dialysis, more and more patients are being treated at home. Here's a closer look at why more dialysis care is moving in-home:
Technology makes home hemodialysis (HHD) cheaper and easier
Home hemodialysis (HHD) has historically had its fair share of obstacles. First, this form of treatment requires a hemodialysis machine present in the home. In addition to being expensive, these machines have classically been very difficult to learn to operate and have required a care provider or family member to be trained extensively. Even with this thorough training, there has been an ongoing risk of error due to the machines being insufficiently user-friendly. However, dialysis machine manufacturers have begun to offer machines specifically for home care that are cheaper and easier to operate than those used for in-center care. With these offerings, HHD has become less risky and more accessible.
Medicare plans to make makes home care more attractive
Overall, ESRD has seen a policy-driven shift over the last decade from a fee-for-service system to value-based care. The Medicare Improvements for Patients and Providers Act that took effect in 2011 introduced a bundled payment system for ESRD dialysis providers, a move that was intended to control Medicare costs while simultaneously improving patient outcomes.
Just last month, the U.S. Centers for Medicare and Medicaid Services (CMS) announced the creation of a trial plan to redesign the payment structure of in-home treatments to make them more attractive to providers. This plan is also designed to make kidney transplantation more accessible, and to incentivize slowing the progression of CKD in order to reduce the $114 Million the US government currently pays annually to treat CKD and ESRD.
This plan may offer a boost to platforms like Cricket Health and Somatus, who focus on early intervention to slow the progression of kidney disease. It may also offer an opening to companies like CVS Health, which is aiming to develop and deploy at scale a new at-home hemodialysis device to optimize patient care.
Improving patient autonomy and self-advocacy
Home dialysis options provide ESRD patients with an unmatched level of autonomy and allow them to be more involved in their own care. This greater engagement with their own treatment provides patients with the confidence to advocate for themselves and their needs. Additionally, since patients can complete their treatment at home, on their schedule, rather than having to make multiple clinic visits a week, they can plan their treatment around their lives rather than having their lives dictated by the rigors of their treatment schedule. Because treatments can be more frequent and more consistent when done from home, patients have fewer fluid and diet restrictions, and therefore feel the impact of dialysis less in their daily lives.
Looking Forward
ESRD patients have more treatment options than ever before, and clinicians are continuing to help patients become their own best advocates. A revitalized focus on kidney care innovation will continue to make at-home dialysis more accessible, which is likely to result in lower treatments costs and improved outcomes for kidney disease patients.
Recent News
Analyzing the Healthcare Industry's Approach to Innovative Technology
Dosis Personalized and Digital Medicine Consumer Report
National Siblings Day: Running a Brother & Sister Business Two Years In
Why Kidney Care Will Finally Get the Innovation and Attention It Deserves in 2019